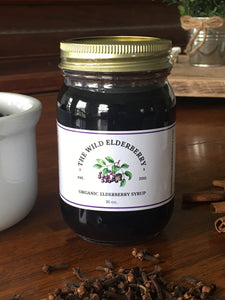 Our Elderberry Syrup is packed with antioxidants and vitamins, giving your immune system the boost it needs for health and wellness.  Elderberries can help tame inflammation, lesson stress, and help protect your heart.  Elderberries help prevent and shorten the duration of cold/flu and allergies up to 3-4 days.  
Our elderberry syrup is 100% organic, made with organic elderberries, raw local honey, ginger, ceylon cinnamon and clove.
Recommended dosage for overall wellness.
adults: 1 Tbsp.      children over the age of One: 1 tsp.
MADE WITH HONEY.  

 

NOT SAFE FOR CHILDREN UNDER THE AGE OF 1
 May be taken 4 Times daily when actively fighting a cold or flu. We do not recommend taking more than 6 tablespoon per day. 
KEEP REFRIGERATED 
Best when used within 60 Days