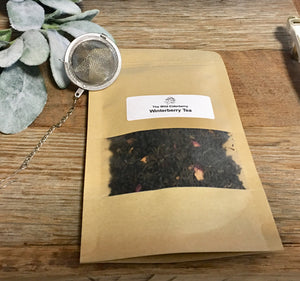 A mix of black tea, elderberry, cinnamon chips, apples and rose petals. A perfect blend of wintertime with the benefits of elderberry.  
Each bag comes with 12 Tablespoons of loose tea.  
To enjoy, steep one tablespoon of loose tea 3-5 minutes in boiling water.  
  Diffusing the pleasant aroma of baking through the air, winterberry tea invites warmth and comfort into the tea drinker! With a base of distinguished black tea and elderberry. This infusion basks in the scent of juicy oranges, sweet apples and gentle cinnamon.